TAKE YOUR FLOWER GAME TO THE HIGHEST LEVEL AND ENCHANT YOUR LOVER IN A SPECIAL WAY.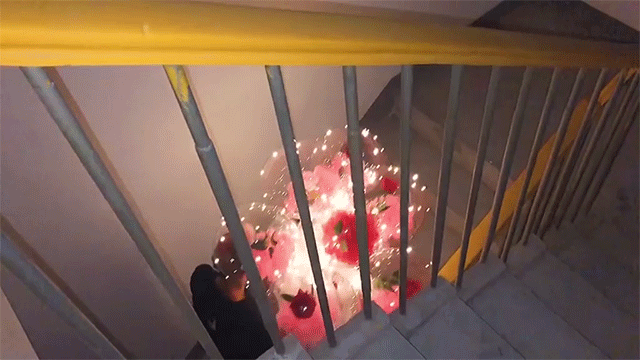 Enchant your lover with this highest level of a flower gift. Your huge artificial rose comes glowing in 3 romantic colors and is a surefire way to draw all the attention and to remind your special one of how important they are.
Huge artificial rose with a diameter of about 40cm and a bright color. The rose is installed in a transparent bubble ball. The most innovative thing we did was to add LED light strings to create an extremely beautiful and adorable bouquet.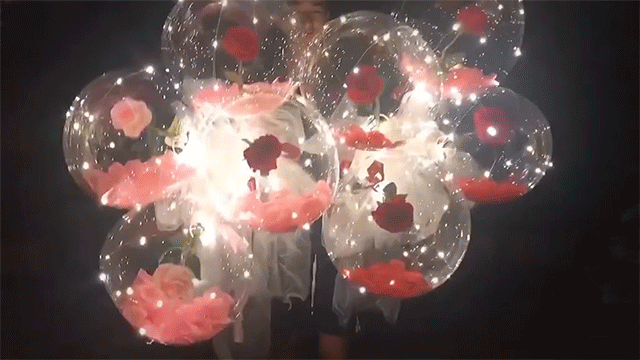 Your lover will definitely be mesmerized and wowed by this unique and lovely bouquet.

✅ LIGHT UP YOUR GIFT AND MAKE IT LOOK MAGICAL - An added layer of decoration that your typical florist is unable to provide or provide at a steep cost. We include that for free.
✅ DURABLE BIONIC FLOWERS THAT LASTS - Flowers that never wilt! You get a more beautiful and vibrant rose that doesn't need to be changed out or taken care of! Keep it looking vibrant like the day you first bought it. 
✅ PREMIUM HELIUM BALLOON LATEX THAT PRESERVES - Keep your bionic flowers safe within a latex balloon. It is also easy to wipe clean and remain looking fresh!
✅ EVERYTHING YOU NEED FOR A PERFECT GIFT - Everything you need to make the perfect gift comes in one package for your convenience. And we also teach you how to set it up in a simple but elegant way!
HOW TO INSTALL
TIPS:
We recommend wrapping the led light around the transparent balloon with the transparent tape in the package. Putting the led light into the balloon will cause the knot too be slightly loose, which may cause the air in the balloon to leak.
SPECIFICATIONS
PACKAGE INCLUDES
1X Balloon
1X Warm Fairy Lights
1X Eternal Rose
1X Decorative Mesh
1X Pump
1X Drawbar
1X Support Column
1X Ribbon
CUSTOMER REVIEW - JOHN
"My wife is going to love this for our anniversary. It's a unique and thoughtful gift and any woman in your life would love it. It took me approximately 30 minutes from start to finish. Arts and craft is not my specialty so if believe that if I can do it, you can too."
CUSTOMER REVIEW - COCO
"I stretched them well using my fingers before inflating. I used helium gas. It looked pretty. FIY: If you are going to wrap it with the coil, helium gas wouldn't work. Bought it for my mom's birthday and she loved it. She said she has never seen anything like this."
SHIPPING FEE - FLAT RATE OF $6.99 
SHIPPING DELAY NOTICE: Please expect a 2-4 week shipping delay due to the High Volume of Orders.